Summer Hours
The library will be closing at 12:00 noon on June 28th and reopen on August 1st.
Closed in July
Library reopens in August
*********************
Check out your local public library this summer!
Find books, e-books, audio books and audio e-books in the *new* library catalog or the old school (classic) version of the catalog:
Start your free online subscription to the New York Times today! Link from the NYTs icon below and use your seq.org e-mail to create an account!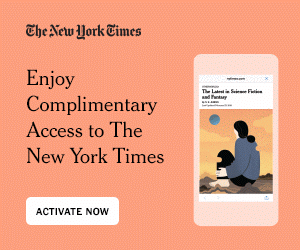 Online Subscriptions
Ask the library staff for the user name and password to access these databases.
Artstor - collection of digital images from museums, photo archives, and other sources.
Congressional Digest Debates Online - US Civil Rights and the Judiciary, Economic and Environmental Policy, Government and Politics, and Foreign Policy
Discovery Education - collection of educational videos, images, and audio files.
Grey House Publishing: History
Infotrac - includes Student Resources in Context, Opposing Viewpoints, Science in Context, Artemis/LRC, Informe, and GVRL
JSTOR - digital library of academic journals
Library Links for Education - Infotrac and other online resources through the Peninsula Library System.
Times Machine (New York Times)
New York Times archives, 1851 – present.
Salem Press: Health, History, Literature, and Science
Thank you to The M-A Foundation for the Future for funding ARTSTOR, JSTOR, Congressional Digest Debates, and Discovery Education.
More Online Resources
Newspapers from Around the World
Visuwords: online graphical dictionary
Kepler's Community Partner in Education Program - Mention M-A when you make a purchase at Kepler's and they will make a donation to the M-A Library.